---
The Regional Directorate of Lazio's Museums coordinates and promotes state museums on a regional level, encouraging collaboration with other territories to improve the quality of services. 
More info
---
---
Alessandra Giovannoni – Pietre illuminate
Inaugurazione sabato 16 dicembre 2023 ore 17.00 DIREZIONE REGIONALE MUSEI DEL LAZIO Museo nazionale etrusco di Rocca Albornoz – piano mezzanino piazza della Rocca – 01100 Viterbo 16 dicembre...
Raccontami San Tommaso
10 dicembre ore 10:00-13:00 "Raccontami San Tommaso…" Laboratorio sul fumetto per ragazzi dai 10 ai 14 anni. Partecipazione gratuita Prenotazione obbligatoria:
Apertura straordinaria dei depositi
Nell'ambito delle attività previste per la Giornata internazionale delle persone con disabilità del 3 dicembre, il Museo archeologico nazionale di Nemi offre a tutti l'opportunità di conoscere il Museo...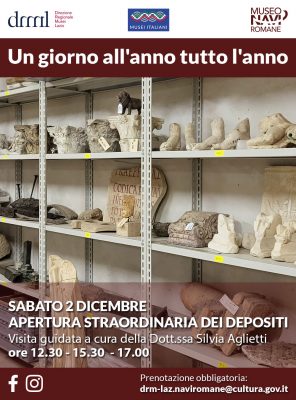 ---